Created by Mary Clark over 100 years ago in 1913, Clark's Pies, colloquially nicknamed "Clarkies" or "Clarksies" are well known, quality meat pies from Cardiff, South Wales
The exact recipe of the pie filling is a closely guarded secret containing beef , vegetables and gravy . Each pie has the word "CLARPIE" stamped into the pastry.
At Clark's Pies we pride ourselves on three things;
Our rich history
The quality of our pies
Being Welsh and proud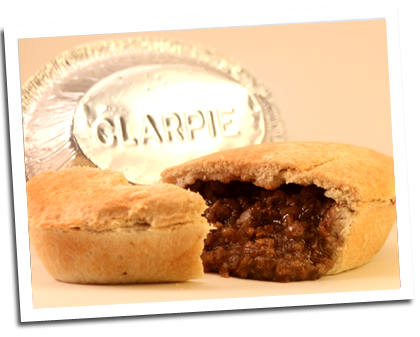 New: Foil Packaging for 2014
Clark's Pies are excited to announce that we are now producing our pies in foil trays. The decision was made as a result of customer feedback with a focus on the quality of our pies.
The CLARPIE will be clearly seen on the bottom of every pie - stamped into the foil tray and the pie making for easy pie recognition. The foil will also lend support to the structure and help retain the moisture in the pie - keeping the gravy in the filling just as our customers love. There is no change to our traditional recipe.
And for our daring fans who enjoy the gravy avoidance challenge – live dangerously; throw away the foil tray in to the recycling bin!